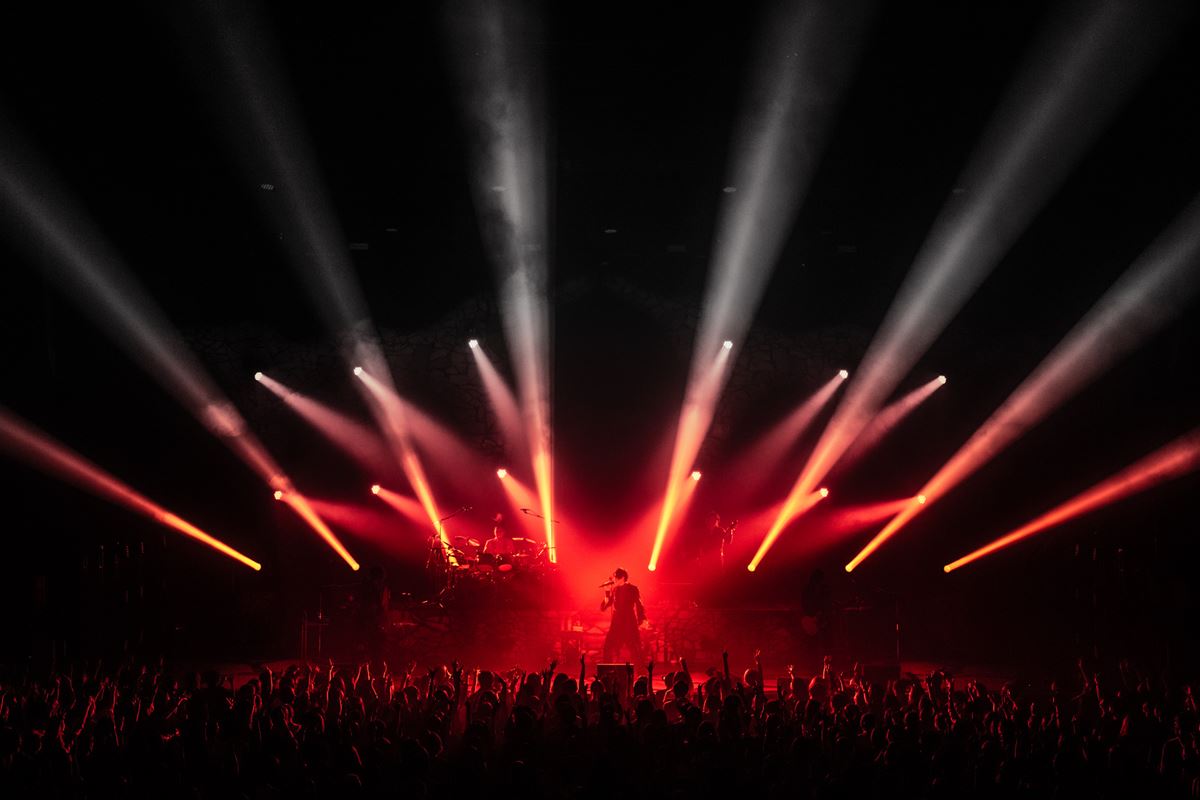 "The Parade Will Always Go On"
BUCK-TICK TOUR THE BEST 35th anniv. Official First Day Concert Report
Pia News
15 October 2022
Text=Yuka Okubo
Photos=Seitaro Tanaka
After BUCK-TICK celebrated the 35th anniversary of their major debut and released their best-of album CATALOGUE THE BEST 35th anniv. on 21 September 2022, they kicked off their national tour BUCK-TICK TOUR THE BEST 35th anniv. with their first show at Tachikawa Stage Garden on 13 October.
Looking back at BUCK-TICK's anniversary concerts, both the 20th and 25th anniversary shows were lively festival-style events featuring artists who participated in their tribute albums. For their 30th anniversary show, they switched to putting on a bang of a solo show over two days with a special stage set up at Odaiba, Tokyo and vastly different setlists for each day covering their 30-year career.
Their 35th anniversary concert was held on 23 and 24 September this year at Yokohama Arena, Kanagawa. The setlist was a departure from the festive mood of the previous anniversary live shows; instead of going for nostalgia of the past, they performed songs with messages that were crucial for the present and overwhelmed the audience with the use of bold imagery that even covered the performing members from view to bring this worldview into reality.
BUCK-TICK is a truly rare band of its kind. Huge posters were put up in Shinjuku and Shibuya stations during the run-up to the 35th anniversary show. I saw a group of office workers on their way home from work who stopped when they saw the poster that featured BUCK-TICK's debut photo and the band as they are now posing in the same way.
"Wow, what a throwback." "BUCK-TICK? …… You know them?" "Oh, yeah. They used to be a Visual-Kei band back then, though."
That was a conversation I overheard, probably between a boss and his staff. Fans who heard it will probably think there's a bunch of wrong information there, and those who aren't fans will probably think that's all there is to the conversation.
However, the undeniable facts are that BUCK-TICK has continued to focus on their music and evolve for 35 years without losing themselves, they have performed at the Nippon Budokan almost every year, their revolutionary sound and discrete style are a major influence on bands who came after them, and even now, they're still being "discovered" and are attracting all kinds of audiences. Such bands are hard to come by.
On the other hand, the news that their singer Sakurai Atsushi would be a radio personality (every Friday at 9pm from October to December on FM COCOLO) "for the first time in his 35-year career" caused a stir among their fans. It's probably hard to find another band who would fit in such a box.
While they did live stream concerts and have a film concert tour during the height of the COVID-19 pandemic, this will be the first time in almost three years that the band is holding a national hall tour with 21 shows. While the first show of their tour may bring a whole lot of nerves, the selection of songs were full of character, bringing smiles and tears where appropriate. The band ensemble rich with expression and a full-on performance from fingertips to toes tactfully weaved the show together.
【RIBELO】【GOTIKA】【ELEKTRIZO】【FANTAZIO】【ESPERO】
The setlist, built around these five concepts of their best-of album, CATALOGUE THE BEST 35th anniv. which showcased the band's songs in themes rather than a timeline, was fresh with the way it linked two timeless songs to create a new story and also included songs that hadn't been performed in quite a while. Also, projection mapping visuals filled the stage, bringing to life the worldviews of each song in a way that is again different from what they showed us in the Yokohama Arena shows.
"I hope we get to shout 'love' and 'peace' together soon," said Sakurai during an MC break before leading into Sayonara Shelter, the new song in their best-of album. This performance could very well be considered to be the highlight of this tour with the way he softly sings this song that is quiet yet strongly angry at the current state of the world despite its gentle melody, as if praying.
"I don't know how it will last, but the parade will always go on." ── Sakurai
"Parade" refers to BUCK-TICK's locus. This word will always be attached to their anniversary shows. The message may sound contradictory for a moment, but we can sense their intention to "see the parade that is BUCK-TICK to the end". But it's still too early for us to get ahead of ourselves and feel sad about the end which we don't even know when to anticipate.
Taking off with a spring in its step and full of lively music, this "B-T TRAIN" is fueled by the love of those who ride along with it. I'm certain it won't be leaving anyone behind as it races towards its final destination, the 29 December show, BUCK-TICK TOUR THE BEST 35th anniv. FINALO at Tokyo's Nippon Budokan. And after that, we will await a new hope, and a new start in the form of a new album.